Directions to Our Offices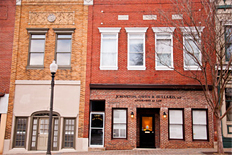 Johnston & Owen has its primary office located at 124 North Hill Street in Griffin approximately two blocks from the Spalding County Courthouse. Our Griffin office is open Monday through Friday from 8:30 a.m. until 5:00 p.m. We are closed from noon until 1:00 p.m. for lunch. Documents delivered to us after hours may be deposited through the mail slot on our front door.
Johnston & Owen now has an office in Fayetteville located at 110 Hambersham Drive in the Fayette Executive Center. We opened this office as a convenience for the substantial number of Fayette County clients that we represent. Appointments may be made at our Fayetteville location by calling 770-371-5023, Ext 204.