Directions to Our Offices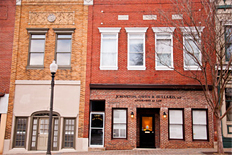 Johnston, Owen & Bullard has its primary office located at 124 North Hill Street in Griffin. The office is approximately two blocks from the Spalding County Courthouse. The office is open Monday through Friday from 8:30 a.m. until 5:00 p.m.
In 2008 our firm opened a second office in McDonough due to growing demands for our services in the Henry County area. Our McDonough office is located at 18 Atlanta Street, Suite 300, which is on the western side of the Henry County Courthouse near the intersection of Atlanta Street and Jonesboro Street. We share our building with John D. Rucker Co.